Authored by grassroots, veteran organizers, movement strategists and thought leaders from across our climate and environmental justice movements,​
the third edition of Hoodwinked in the Hothouse is an easy-to-read, concise-yet-comprehensive compendium of the false corporate promises that continue to hoodwink elected officials and the public, leading us down risky pathways poised to waste billions of public dollars on a host of corporate snake-oil schemes and market-based mechanisms. These false solutions distract from the real solutions that serve our most urgent needs in an alarming climate justice moment of no-turning-back. By uncovering the pitfalls and risky investments being advanced by disaster capitalists to serve the needs of the biggest polluters on the planet, Hoodwinked also provides a robust framework for understanding the depth of real solutions and how they should be determined. As a pop-ed toolbox, Hoodwinked promises to be instructive for activists, impacted communities and organizers, while providing elected officials with critical lenses to examine a complex, technocratic field of climate change policy strategies, from local to national and international arenas.
The second version of Hoodwinked in the Hothouse was released in 2009 as a pop-ed zine collaboratively produced by Rising Tide North America and Carbon Trade Watch with the Indigenous Environmental Network and a number of allied environmental justice and climate action organizers leading up to the 2009 United Nations climate conference in Copenhagen (COP 15). During that mobilization and in years since, this zine has played a major role in raising awareness across climate movements around the world – both helping frontline organizers in their fights against destructive energy proposals and shifting policy positions of large non-governmental organizations.
With the proliferation of false solutions in the Paris Climate Agreement, national and subnational climate plans, the third edition of Hoodwinked in the Hothouse aims to provide a resource that dismantles the barriers to building a just transition and a livable future.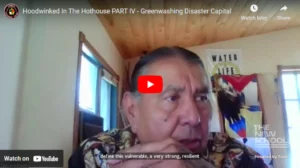 contributing organizations